Autopackers
Brian Pike Packaging's range of Automatic Packing Machines provide a faster sack filling and weighing system, suitable for all free flowing materials including Sand & Aggregates, Coal, Salt, Fertilizer, Wood Chips, Animal feeds etc.
The Autopackers feature the following components.
Hoppers of various capacities, from 1 to 15 Tonnes
Reciprocating Power Feeders providing high speed sack filling
Optional pneumatic Top-up-Door and two adjustable feed rates for greater speeds and accuracy
Digital stamped and approved heavy duty weight systems or Economy unstamped mechanical Bagging Scales
Fischbein – Saxon continuous hot air Heat sealers or Star 61 Impulse heat sealers (see Heat sealing Bag Machinery)
Rubber Belt Conveyors and Elevators, the Conveyor transports the filled and weighed bags to and through the heat sealing station and the Elevator raises the sealed bags to the operator Waist/Chest height to ease the physical handling.
Ancillary equipment including Pick up stations, sack kickers and deflectors, bag flattener and aligner units etc. to be used in conjunction with robot Palletising systems.
These Autopacker bag filling machines have the option of fixed rate or variable speed motors to the hopper feeders, conveyors and elevators as well as the continuous hot air heat sealer to enable the ideal packing and sealing rate for your products.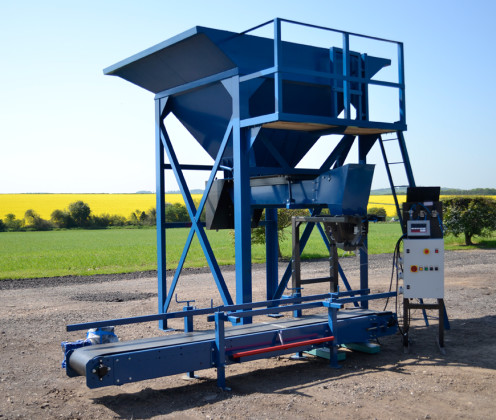 Environment Agency Autopacker
These machines were developed from our prepacking machines in answer to customers requests for higher outputs and therefore to enable them to compete in the market place and improve their profitability. Many of the parts have been upgraded to ensure reliability and longevity reducing down time to a minimum and increasing productivity.
REQUEST MORE INFORMATION